The trial of suspects charged with a series of ethnic homicide against Gipsy communities started on March 25 2011 - Balázs Stépán
A SWAT and police force of more than 100 arrested the four suspects, Arpad K., Istvan K., Zsolt P., Istvan Cs., in a club in Debrecen on August 21 2009. Prosecution put forward full charges of first-rate ethnic homicide on September 8 2010 and the president of the Pest County High Court assigned his honor Judge Laszlo Miszori to chair the trial. Prosecution called for the hearing of 160 witnesses and 30 experts. First-degree sentence is to be declared this year.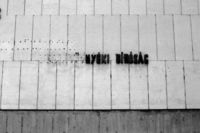 On August 25, four days after the arrest of the suspects, brigadier-general Istvan Hazi and colonel Attila Petofi declared full success at a press conference, yet, none had any account for the reasons of the killings. Almost one year later the suspects were charged with a series of first-rate ethnic homicide and racist rioting by the confessions of Istvan Cs., one of the four suspects. The indictment charged them with "forming a private army to ignite civil war."
On December 28 2009 Lieutenant-general József Bencze announced all four suspects had been arrested. However, a fifth suspect had been involved in the armed robbery in Besenyszög. Unspecified police sources reported having enough evidence even without any confessions. Suspects have not confessed and the more than 800 clues are far from being hard evidence, since some were handled negligently; therefore the court has to weigh each separately.
A special parliamentary committee investigated police ineptitude and negligence and its 2009 November report declared the National Security Bureau and the investigating police forces cooperation inadequate.
The prosecutor announced the charges at the High Court of Pest County on March 25. The trial was in the focus of publicity and professional expectations alike, hence many of the journalists could not get into the pompous, socialist-baroque style courtroom and could only follow the events on the big screens. Among other crimes, the charges included a series of first-rate homicide against more victims, some of whom were younger than fourteen at the time of the acts. The suspects attacked ten times.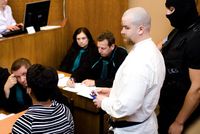 The 29 random shots at Tanabod did no harm and were not against Gipsy families. The attacks at Galgyagyörk on July 28 2008 caused panic, but no one had been injured. Magdolna Getyinás was shot in Piricse on July 20 and no one had been injured by the random shots in Nyíradony-Tamásipuszta on September 4. The shooting in Nagycsécsen on November 2 left two casualties. Krisztián Rontó was shot in the waist and crippled in Alsózsolca on December 11. Róbert Csorba and his son were shot dead in Tatárszentgyörgy on February 22 2009. Jenő Kóka was killed in Tiszalök on April 22 and Mária Balogh; widow was shot dead and her daughter seriously wounded in Kisléta on August 2.
The suspect killed six victims by 78 shots, though the 91-page indictment was far from convincing. Undisclosed defense counsel sources claimed that a second indictment could be put forward based on unanswered questions, missing evidence and negligence and more suspects should be brought to court.
All four defendants acknowledged the charges. Árpád K., István K., Zsolt P. refused confessions, while István Cs. Confessed at the beginning of the trial and repeated his earlier confessions. He transported the defendants to Tiszalök and Kisléta though he had not suspected their intentions to kill.
Árpád K. and István have tried to stall the trial changing defense counsel and claimed the judge biased. Defense counsel Zsolt Bérdi claimed His Honor Judge Miszori biased on March 2. All such claims have been rejected by court. The judge has called defendants by their first names to ease tension at court.
Crown witness Mrs. F., Éva Nyalka employer of all four defendants helped them to escape from Tiszalök in 2009. The woman got confused in the April court session withdrawing all her previous confessions, and then broke down in September refusing to confess and be a crown witness.
The defendants acquaintances denied that István K., who would read Mein Kampf, or Zsolt P., who had a Hail Hitler and double eight tattoo on the back of his neck, were racist or Neo-Nazi. Two tattooists from Debrecen talked about Nazi and extreme rightist tattoo trends at court. István K. requested the following tattoos: Rudolf Hess portrait, the eagle of the Third Reich and swastika on his leg. Zsolt P. had a double eight tattoo made. Snake Sándor T., a colleague and friend of Zsolt P., told court that P. was not a racist and did not hate Gipsy, though he was not fond of them either. All defendants have denied being racists.
Recalling the attacks shocked most of the victim witnesses. Although His Honor László Miszori called himself an investigator judge, yet the hearings were not without mishaps and confusion. His sharp, prompt interactions and interrogation made some of the witnesses even more confused and scared.
Csaba Csorba, whose son and grandson were shot dead in Tatárszentgyörgy, was still disturbed when he recalled that dreadful night three years before. The poor CSI has mad him irritated and he has not trusted the police ever since.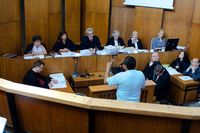 He has tried to recollect and retell the story of the attack from his scanty memory and he has always insisted on his confessions. Magdolna Getyinás, who was injured by a shotgun in Piricse, is still shocked; therefore, she has confessed while the defendants left the courtroom. No one saw the attackers except for a few children in Alsózsolca, but they cannot identify them either. Underage Péter P. fainted during his confession and the court has to be cleared. Recalling the events in Nyíradony broke him down. Almost all victims were shocked by the mere chance that those horrible events happened to them.
The defendants' background has not been revealed, though the national-radical subcultural trends in Debrecen have been evolving recently. Several radical groups have been formed such as e.g. Bloody Sword, Eastern Front Brotherhood Society, National Front, National Welfare League, National Valor League, etc. The Skins for Skins Group has collected donations for the defendants' families. István K. was a founding father of Eastern Front Brotherhood Society in the mid-nineties. Some of its members were convicted for burning Torah ark of the synagogue in Debrecen. Later István K. joined the Bloody Sword, but he quit in 2006. According to István Cs. Árpád K. wanted to join the Neo-Nazi Hungarian National Front group, but finally he gave up.
The defendants considered the banned Hungarian Guard weak and out-of-date. They attended their commencement ceremony in 2007, but thought it ridiculous. According to the charges, that was the time when they decided to take more serious measures to restore order as a response to the atrocities and crimes alleged to Gypsies. They intended to shake up the country and drive people against Gypsies and ignite ethnic rioting. His Honor Judge László Miszori has tried his best to reach a verdict this year.
List of crimes and offences:

Shot dead:

Nagycsécse – Mrs. Tibor Nagy on November 2 2008, Józsfet Nagy on February 22 in 2009

Tatárszentgyörgy – Róbert Csorba and Robi Csorba (5) on April 22, Jenő Kóka on August 2 2009,

Kisléta – Mária Balogh widow on August 2

Shot and injured:

Piricse – Magdolna Getyinás on August 7 2008

Alsózsolca – Krisztián Rontó on December 11

Tatárszentgyörgy – Bianka Csorba

Kisléta – Tímea Balogh (11) hardly saved

Arson:

Galgagyörk on July 20 2008

Piricse on August 7

Tarnabod on September 28

Armed robbery:

Besenyszög on March 7 2008

(The dates indicate the time of the preparation for the attacks the actual offences might happen next dawn.)